Latest News and Announcements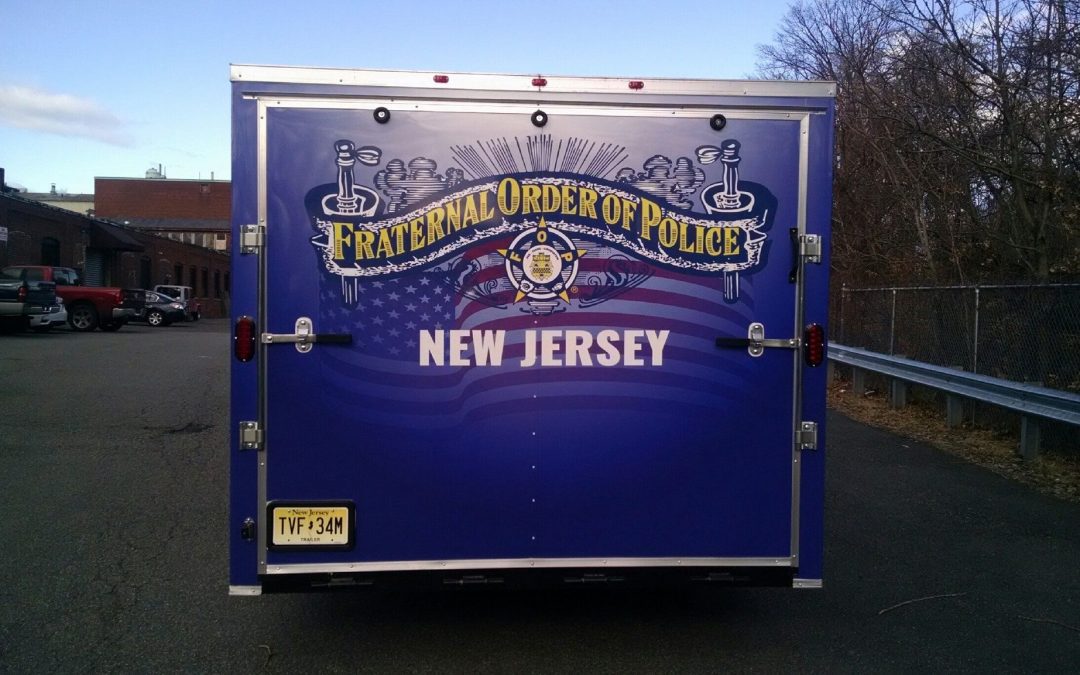 NJFOP congratulates two of our very own members who have received the under 40 International Chiefs of Police awards. We are extremely proud of both, Billy Walsh and Kevin Carey.
Chief Kevin Carey, 37, has been at the forefront of reorganizing and reenergizing the Collingswood Police Department. Since being promoted to chief, he has made great efforts to develop a relationship with staff in the police department, the Collingswood school district, and the community. He is well-known and well-like by the agency's employees and considered accessible and committed by the residents of Collingswood.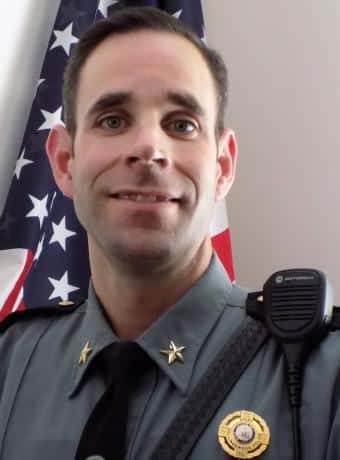 From a young age, Chief Carey was drawn toward helping others and found pride in his ability to empathize with others to make them comfortable. These attributes have served him in his position as police chief and have grown into a passion to make societal change by inspiring others. Some of his accomplishments include modernizing and reorganizing the community outreach programs. These programs include, for example, a chaplain program for residents and officers who experience trauma, an addiction counseling intervention program, Coffee with a Cop, and the agency's first L.E.A.D. program for fifth-grade students. He also reestablished CIT training for Collingswood officers. Chief Carey views engaging with the community an essential part of furthering the agency's mission.
Lieutenant William Walsh, 35,  entered the law enforcement profession at age 16 when he became a police dispatcher. He is passionate about both serving his community and aiding his fellow officers and is recognized as a trusted colleague and committed leader.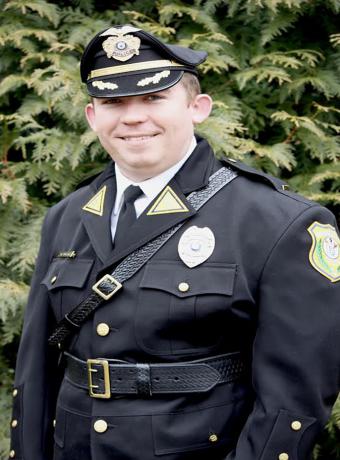 Lieutenant Walsh has learned firsthand the dangers of mental illness and emotional distress within the law enforcement community through the suicide deaths of two fellow officers, as well as witnessing a member of the public take his own life. These tragedies inspired the focus of his graduate and postgraduate studies, and he developed curricula to help bring attention to improving the health and wellness of the law enforcement community. His commitment can be seen in his officer health and wellness courses, which are currently taught in New Jersey police academies and presented to law enforcement and corrections agencies and organizations. He also spoke on support systems for officers at the 2017 IACP Annual Conference. Lieutenant Walsh feels a strong calling to mentor the next generation of officers as an adjunct criminal justice professor and police academy instructor. He continues to inspire other officers to further their studies.
Lieutenant Walsh also gives back to the community, most notably by developing his community's first citizen's police academy, designed to educate residents and dispel myths by shedding light on topics such as deadly force, police distress, the investigative process, and internal affairs.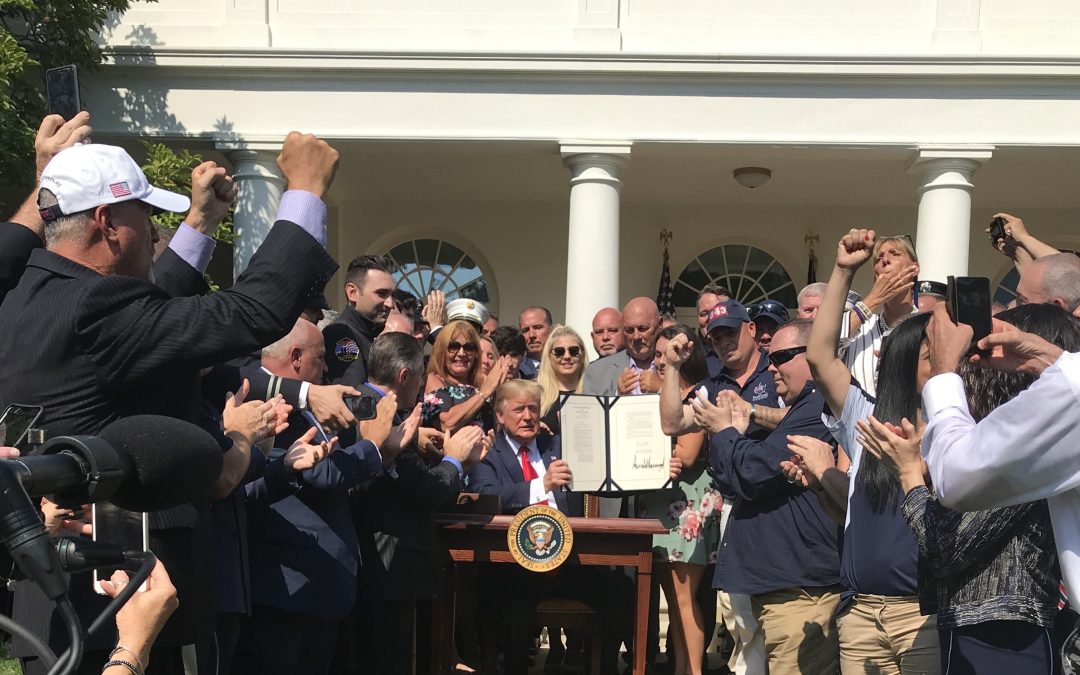 The weather was picture perfect as over 200 invited guests joined President Donald Trump in the long-overdue signing of the 9/11 Victim Compensation Fund legislation in the Rose Garden at the White House.
NJFOP President Robert W. Fox was among the honored guests, 9/11 survivors and family members along with other dignitaries. Fox said, "It's about time that the Federal government and State of New Jersey have both enacted laws giving our brothers and sisters the medical help they need from that terrible 911 tragedy. It's been 18 years since these survivors…many who have passed on…gave so much that day for the protection of our citizens in this great country."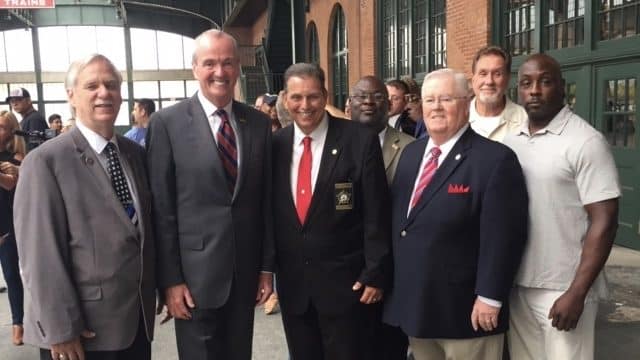 NJFOP President Robert W. Fox said, "It was a great day for the NJFOP and the PFANJ to see our Governor, State Legislators, and First Responders Unions, including the State Lodge Fraternal Order of Police, celebrating a well-deserved benefit being given to the men and women who make the ultimate sacrifice in dire emergencies protecting the citizens of this State and Nation.
Thanks to Assemblywoman Annette Quijano and Senator Linda Greenstein for sponsoring the Thomas P. Canzanella 21st Century First Responders Protection Act.  Also, thanks to PFANJ Dom Marino and NJFOP lobbyist Pete Guzzo for their hard work! No thanks to former Governor Chris Christie who vetoed and killed this bill not once…but twice.
Today, Governor Phil Murphy closed the deal and signed this bill into law. This legislation was championed by the late PFANJ President Thomas Canzanella with the help of former NJFOP President Ed Brannigan. Brannigan delivered a very moving speech at the ceremony and NJFOP Executive VP Bob Gries led the Pledge of Allegiance.
In addition to Brannigan and Gries, other NJFOP representatives were State Lodge President Robert W. Fox, Vice President Jim Stewart, and Sgt at Arms Ken Hawkins.