TRENTON) -Last month, we reported that an FOP-initiated piece of legislation (S596/A3422) that would allow certain public employees continue to receive fair compensation after being forced out of work because of injuries resulting from being attacked while supervising inmates or detainees had advanced to the Governor's desk. This week Governor Christie conditionally vetoed the bill.
Christie's conditional veto, among other things, would limit the compensation program to those who suffer more serious types of injuries and also limit the duration these benefits can be received to no more than six months.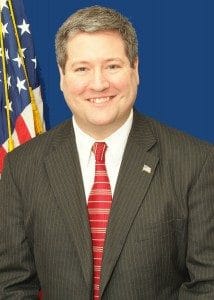 "We owe it to them to have their backs," said Benson (D-Mercer / Middlesex). "While I am concerned over the six-month time limit Gov. Christie's conditional veto would impose on these benefits, I am willing to work with the administration to push a final version across the finish line that still maintains our key priorities. Ultimately, our goal is to ensure that public employees who put their life on the line to protect public safety and uphold the law are not forgotten in their time of need."
NJFOP Board Secretary and Government Relations Chairman James Ford applauds Assemblyman Benson for agreeing to work with the Governor in attempts to finalize a bill that will still ensure that our brothers and sisters who are injured by inmates and detainees receive the benefits they deserve.
Benson noted that under current law, a corrections officer or juvenile detention officer who is seriously injured after a prison riot or inmate attack, and cannot work, does not receive any salary while waiting for workers' compensation to take effect, which can take several months.
A recent rise in attacks on corrections officers prompted Benson to address this gap in state statute.
"A serious injury that forces an officer out of work for a substantial amount of time can have a significant impact on their finances. These officers assume a significant deal of risk every day on the job, yet they're excluded from provisions that make compensation available to other public safety officers. This legislation is about taking action to eliminate that inconsistency so that people who put their lives on the line aren't left helpless in the event of an attack," Benson added.