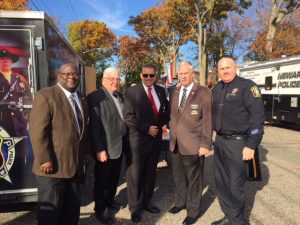 On November 8th, the 26th Annual Newark Blue Mass was held at the Cathedral Basilica of the Sacred Heart. His Eminence Cardinal Joseph Tobin conducted the mass for 500 over persons in attendance from the Law Enforcement. Officers killed in the line were remembered on this day were:
** Officer Tamby Yagan
** Lieutenant Chris Robateau
** Trooper Brian McNally
** Detective Eric Lieberman
Special Remembrance was paid to Undersheriff Kevin Ryan. Also at the mass was Governor Philip Murphy and State Attorney General Gurbir Grewal.
As always our own Newark Lodge #12 was there with their trailer providing refreshment to all prior and after the mass.